The Douglas Construction Group Design-Build Advantage
Choosing our design-build option allows DCG to be your single point of contact and provide full accountability and coordination for your entire project. You can be assured when working with our design-build team that you and your project will be in good hands from start to finish.
What does design-build mean and why does it matter?
Design-build is a construction method that allows you to choose a builder who will be your single point of contact for all of the design and construction details of your project. We believe the design-build method of streamlining the coordination and communication lowers your risks and enhances your overall homebuilding experience.
5 Benefits of Design-Build Construction
Single source accountability – Ensures that you always have a direct line to answers.
Budget management – It's important to have open communication throughout the design phase. Understanding cost implications related to design decisions while they're happening will keep the project within your desired budget.
Enhanced communication – Fluid communication between the design team and the build team helps to reveal and avoid potential challenges before they happen.
Faster project completion times – Because the design and construction teams are working in tandem, some of the traditional bottlenecks are eliminated or drastically reduced (e.g., bid times, scheduling delays, and miscommunications).
Better quality controls – Because the designer, engineer, and builder are all part of the same team, we share the same single focus: protecting your interest and meeting your goals. This is particularly valuable when it comes to ensuring material and construction quality.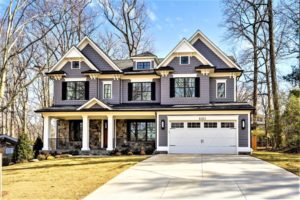 What's the Alternative?
The common alternative construction method is design-bid-build, which puts the responsibility on you, the homeowner, to select an architect/designer and engineer, finalize the plans, develop the specifications, solicit bids, choose a contractor, and coordinate communication between the design and the construction teams. The challenges arise when problems occur with products, timelines, budget overruns, and bids that are not similar. Too often, the homeowner pays the price, literally and figuratively.
Whether you're choosing design-bid-build or design-build construction, DCG will be your advocate and help you through the entire process.